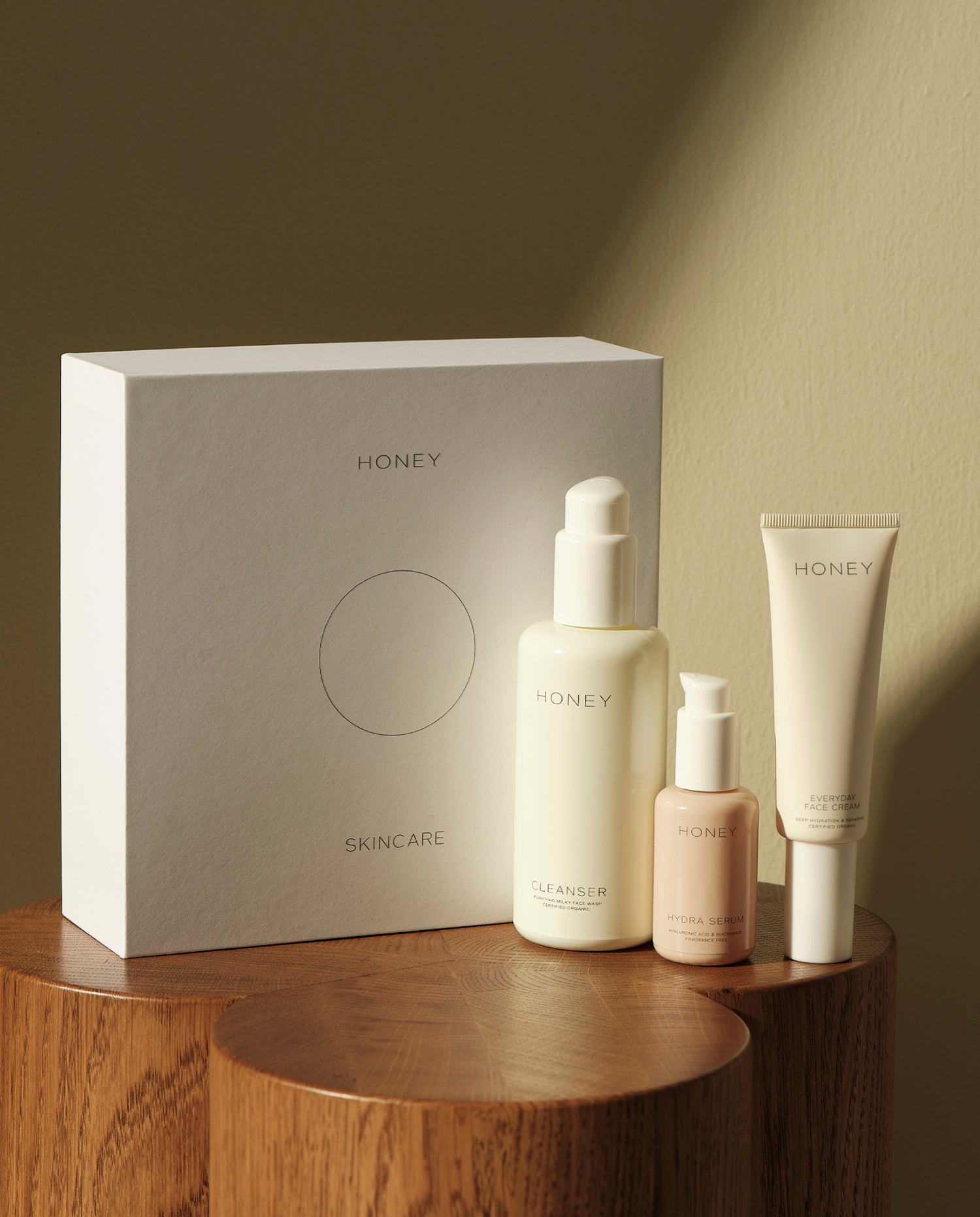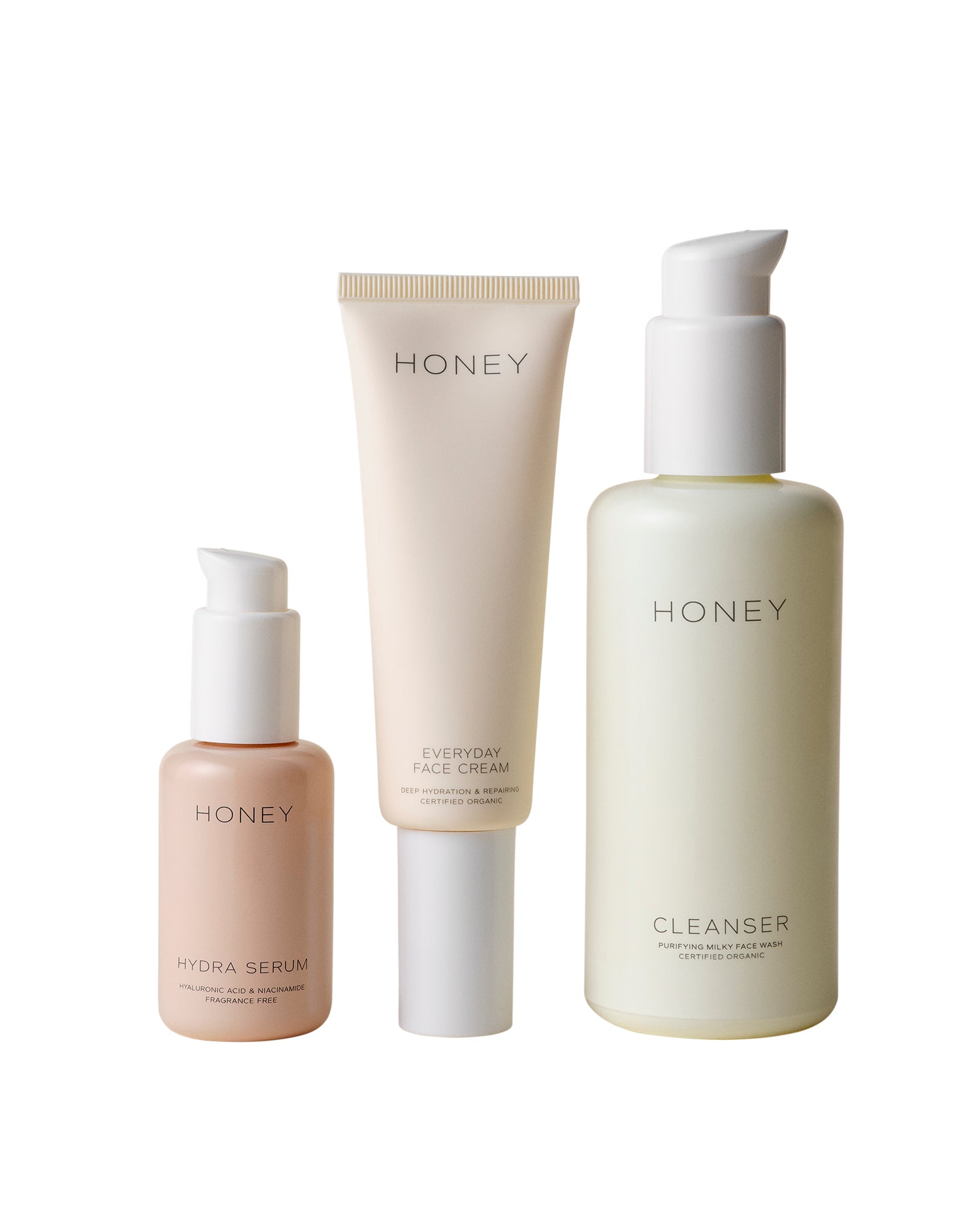 Regular price
1.055,00 DKK
Sale price
1.055,00 DKK
Regular price
Tax included.
Give your skin the ultimate pampering with Glow Trio. The gift box consists of a Cleanser, Hydra Serum, and Everyday Face Cream, which is everything you need for a simple but effective skincare routine. The products are fragrance-free and tailored to provide your skin with intense hydration and a radiant glow, regardless of skin type.
HONEY Cleanser is a no-foaming, fragrance free cleanser with a gel-like consistency to deeply cleanse without drying the skin. It has magnesium and calcium to calm tired and stressed skin and to strengthen the skin barrier. Moreover, organic avocado oil and aloe vera improves the skin structure and moisture level. The skin is left clean, supple and ready for the next step in your skincare regimen.  
HONEY Hydra Serum is a potent moisturizing serum whose main purpose is to provide the skin with a nourishing moisture boost. The serum is supplemented with niacinamide and two types of hyaluronic acids; one is of low molecular weight, which penetrates into the skin and acts from within. The other is with high molecular weight, which settles on the outside of the skin and provides silky soft moisture. The well-documented wonder ingredient, niacinamide, strengthens the skin's own collagen production and soothes redness and hyperpigmentation. The serum is suitable for all skin types, and is the ultimate self-care for the tired mother.
HONEY Everyday Face Cream is a luxurious and fragrance free face cream for radiant skin. Everyday Face Cream is rich in well-documented ingredients such as extoin, AHG and hyaluronic acid, a combination that works like magic on your skin. Ectoin promotes a smoother skin texture and strong skin barrier, AHG enhances microcirculation and provides a more illuminating skin, while hyaluronic acid reduces fine lines and intensely hydrates. It is a moisturizing and protectiong face cream for both AM and PM. 
HONEY Glow Trio
Regular price
1.055,00 DKK
Sale price
1.055,00 DKK
Regular price
Honey CPH
You are in safe hands with HONEY. Our products are designed to be used in all phases of life – from the moment you contemplate becoming a mother, during fertility treatment, throughout pregnancy and breast feeding to long into the hormonal upheaval of postpartum and a body in need of self-care.

A line of clean skincare products that can be used during pregnancy and breastfeeding.
Ingredients
How to use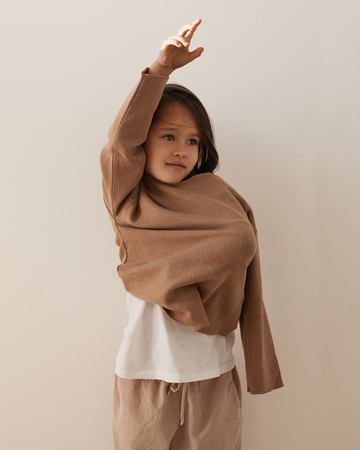 High-Quality Children's Fashion Crafted with Care
"CO Label is the epitome of stylish, high-quality children's fashion. Our brand is all about crafting beautiful, long-lasting garments that your little ones will love to wear. Our clothes are designed with love in Denmark and handcrafted with care in Italy, using only the finest materials.
At CO Label, we understand the importance of quality. That's why our clothes are not just designed to look good, but to feel good and stand the test of time too. From the softest fabrics to the finest details, our garments are made to last, so you can be confident that your child's clothes will be just as gorgeous as the day you bought them, no matter how many times they're worn.
Sustainability is also at the heart of everything we do. We believe that children's fashion should be responsible and kind to the planet, so we take great care to use materials that are eco-friendly and ethical. By choosing CO Label, you are not only investing in quality, but also in a brighter, more sustainable future.
At CO Label, we believe that every child deserves to look and feel their best. Join us on our mission to create beautiful, sustainable fashion that your little ones will love to wear, and that you'll love to keep for a lifetime."
Our childrens planet
At CO Label, we believe in creating high-quality children's clothing while also taking care of our planet. Our fashion industry has a big impact on the environment, and we are determined to play our part in creating a more sustainable future.
From sourcing materials to production and packaging, we take a holistic approach to sustainability. We use only the finest natural and organic fabrics, such as cotton and linen, grown and processed in an environmentally responsible manner.
Reducing our carbon footprint and minimizing waste is also a top priority for us. We use eco-friendly production methods, such as digital printing, which not only reduces waste but also enables us to produce small batches and avoid overproduction and excess inventory.
Transparency and ethical production are also important values for us. We work closely with our suppliers and producers to ensure that everyone involved in the production process is treated fairly and with respect, including safe working conditions and fair wages.
In conclusion, our commitment to sustainability runs through every aspect of our business. We are dedicated to creating beautiful, high-quality children's clothing that not only looks good but also feels good, for both the child wearing it and the planet.