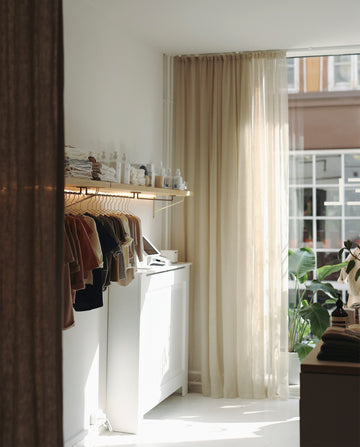 CPH DK
In the heart of historic Copenhagen, tucked in between the renowned Nyhavn and Amalienborg Palace, you will find the atmospheric small street Store Strandstræde and the CO Label brand store, one of the last Children's stores in Copenhagen.
The atmosphere is happy and lighthearted. In creating the store, it was important to create a warm and welcoming atmosphere - and most importantly welcoming families to visit, shop and get advise. Children are always as welcome as their parents. Crayons and toys are available at any time. And everything in the shop can be touched, moved and played with. 
A big flowy Gervasoni chair welcomes you to nurse or to simply rest and a changing station ready and available for babies. Nappies, wipes and creams are available for changing if needed - free of charge. The shop is effortless and beautiful, highlighting our quality garments and a carefully selected handful of exclusive brands to satisfy your needs. You will find our handpicked and curated selection of baby gifts, clothing, nursery décor, bedding and care products for you and your little ones. We cannot wait to show you our neighbourhood.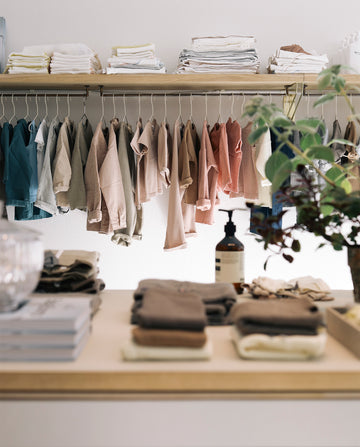 Our Lovely Neighbourhood
Situated on the characteristic street Store Strandstræde, the CO Label shop neighbours a delightful selection of small boutiques, Galleries, Danish fashion brands and eateries. The area is perfectly peaceful for families visiting. Take your kids to the bakeries or the little playground at Sankt Annæ Plads. And if in a hurry - you can always pop into Joe & The Juice for a quick to-go lunch by the playground. While traffic is low in our street you feel the pleasant buzzing atmosphere in the neighbourhood, it is very kid friendly and has plenty to offer for families visiting. 
Its always fun to take your children to Amalienborg Palace to look at the Changing of the Guard ceremony taking place. The ceremony takes place daily at 12:00. And even if you miss the Changing of the Guard - looking at the great grand courtyard and the stoic soldiers with their big bearfurred hats will make a child happy any day.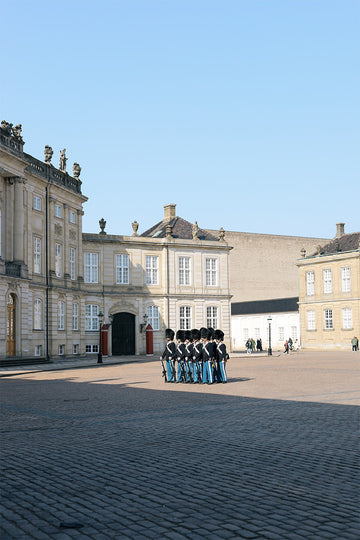 When the Queen is in residence the guard is accompanied by the Royal Guards music band and will fill the heart of Copenhagen with music.
In the area you will find some of the Copenhagen highlights like Nyhavn – the historic local harbour is instantly recognisable by dint of its veteran timber ships and colourful townhouses. Feel the vibrant energy from locals and tourists coming together to celebrate warmer weather in summertime. This area will amaze your little one. From Nyhavn you can take a boat ride, one of the best ways to see Copenhagen with kids is from the water.
On the other side of Nyhavn you will discover one of Copenhagens majestic jewels, The Royal Danish Theater. Various plays and musicals for children will be playing throughout the year and will make a wonderful experience for the whole family. The theater is a spectacular sight in itself.
Neighbouring the theater, just a few hundred meters from our store, you will find the beautiful art museum Kunsthal Charlottenborg. The museum is one of the largest and most beautiful exhibition spaces for contemporary art in Northern Europe. Showing twice per year upcoming and emerging artists in the dedicated Spring and Fall editions.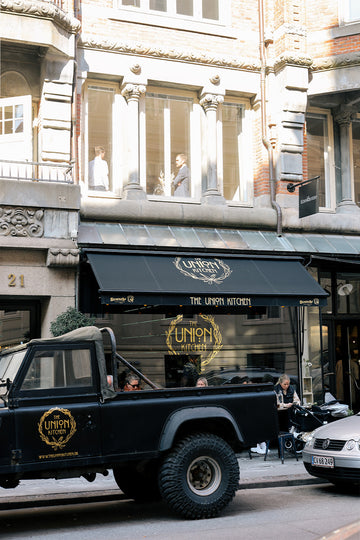 Eateries
Apollo Bar & Canteen are Kunsthal Charlottenborg's bar and dining place. Here you can enjoy a delightful meal or just a coffee. Make sure to enjoy the historical courtyard, while soaking up some much needed sunlight.
Have your coffee breakfast, lunch or dinner at the Union Kitchen - a casual neighborhood eatery with an international atmosphere. On sunny days you can enjoy your meals or your coffee in the street or cozy up inside on colder days. Kids are very welcome, and you can easily fit the stroller at the outside tables. Have their Truffle Fries with just about anything !
You will find two bakerys in our street: Emmery's is for for lots of baked goods, bread, cakes, lighter meals and coffee, and the bakery Umiddelbar just across the street with a selection of pastries and bread, they have no less than 36 different flavoured buns! - just picking one will be your childs biggest issue here.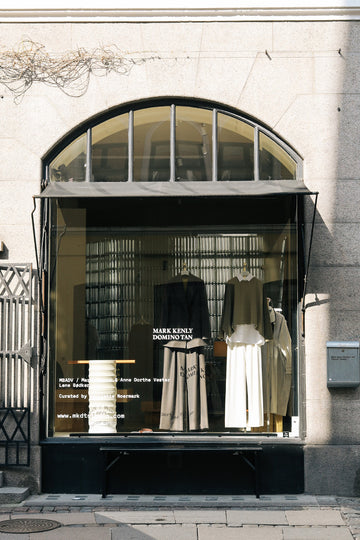 Our Neighbours: High quality boutiques
Take your time wandering around Store Strandstræde and its high quality boutiques. You will find Danish design brands mixed with international renown cult brands surely worth visiting. Next door to CO Label in no 7, you will find young hip Meotine, dressing the hip young crowd in off the hanger jackets and coats in contemporary design. And on the other side in no 3 - Yvonne Koné has her Flagship Store, with her iconic leathergoods.
Situated  in no 8, cult-brand Aesop offers its quality skin, body and hair care using mindfully sourced plant-based ingredients. Sending out its lovely ambience to the neighbourhood, here you can find friendly and competent service.

Do not miss Danish designer Mark Kenly Domino Tan housing in no 9. MKDT creates vibrant clothes with longevity, that people will have, wear and treasure for many years. Next door - Bruno & Joel´s handsewn luxury shoes can be found, mixed with highend handpicked garments from their own unique clothing line.
In no 12 you will find the effortless and honest aesthetics of Danish sustainable fashion brand AIAYU. The store houses ready-to-wear, home and loungewear in high quality designs. AIAYU is a leading star when it comes to sustainable fashion and leading CSR model creating wealth and health for all. Their shop offers great service and unique pieces.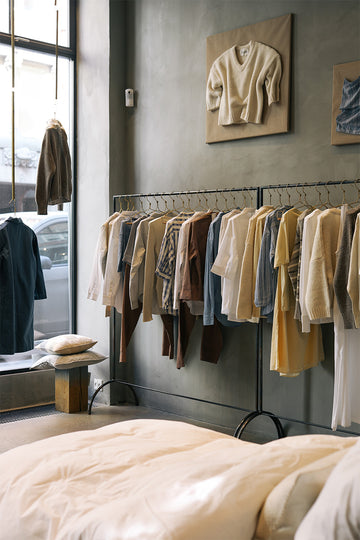 A couple of doors down
Pair large text with an image to give focus to your chosen product, collection, or blog post. Add details on availability, styleyou can explore Le Labo's fine fragrances in personalized perfumes, candles, shampoo, lotion and more. Get your name on your bottled fresh perfume, (TIP: every August you can purchase the coveted CITY-EXCLUSIVES right here! / MUSC 25 Los Angeles is a sure favorite for us every time.)
Skall Studio has opend their new flagship store in no 21. Skall Studio offers beautiful, garments and has become synonymous with conscious fashion. Go visit them for their dreamy dresses with its signature broderie anglaise collars. Skall Studio run by the Skall Sisters has in a short time become a true musthave for not just Danish women - but a worldwide social following. In their new store you can come and see their full range and also go twinning with your mini in their new MUSLING kids line. 
On the corner of no. 21 you will find Danish weaving studio Geismar, dating more than 150 years back. The assortment now includes crisp bed linen, down duvets, pillows, sleepwear for men and women and children and more. All in high quality.
Though quiet Store Strandstræde is never dull. The locals walk the street and you will meet friendly, laughing and a very local ambience throughout the street. In the Summer - locals gather on benches after work to talk - have laughs and perhaps a glass of wine at Nebbiolo .
Our street is a beautiful little corner of central historic Copenhagen, with its many hidden secrets it offers an adventurous walk for the whole family. Even if it is just to adore the view of the pretty Copenhagen architecture or experience the buzzing atmosphere while having your coffee to go and stroll with your little one – we welcome you to enjoy our little corner of this amazing city., or even provide a review.