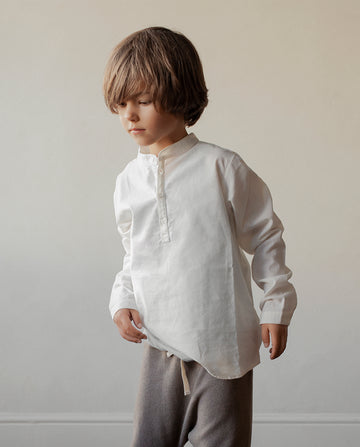 Prioritizing Natural, Organic and Sustainable Materials - photo credit Hannah Lem, styling Carissa Wyten
Sustainable Material Selection
At CO Label, we take great care in selecting the materials we use in our children's clothing. We believe that the right fabric can make all the difference in how a garment looks, feels, and lasts. That's why we only use the finest, most durable, and comfortable materials in our clothing.
Our fabrics are carefully sourced from Europe, with a focus on using natural, organic, and sustainable materials wherever possible. We believe that clothing made from high quality materials not only feels better on the skin but is also better for the environment. Hereby omitting the need to replace frequently.
We work with suppliers who share our values and prioritize ethical and sustainable production practices. Our fabrics are tested to ensure that they meet our high standards for quality and durability, and we take great care to avoid materials that are prone to shrinking, fading, or pilling. Our excessively treated with chemicals.
Our commitment to quality and sustainability extends to every aspect of our business, including the materials we use. By carefully selecting and sourcing our materials, we are able to create clothing that not only looks good but also feels good and lasts long.
In short, we believe that the materials we use are just as important as the design of our clothing. We take great care in selecting the best materials for our children's clothing, reflecting our passion for quality, comfort, and sustainability - aswell as the people behind the process.